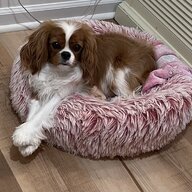 Joined

Aug 12, 2005
Messages

18,705
Looks fabulous! I LOVE IT. I desperately wish I could get new cabinets but I'd have to rip this whole house down to the studs to make it happen, so yeah,

not

happening.

May I show you what we're doing? It's not fancy like yours but, our main kitchen room cabinets were hobby carpentry from the 60s/70s, built into a @200 yr old house. They aren't fancy but they're built like tanks and fully solid- almost impossible to even get the damned tops off. Overkill? Yes, yes it was. They

cemented

this cheap budget bathroom tile with a ridiculous amount of trim(off on the example) and I've lived with it for over 15 years. Why did they do this? Nobody knows.

But NoOoOooo.

And they screwed it down every three inches

I hate it,

but doing anything in this house is nightmarish. Our walls are all original horsehair and there isn't a flat or square surface in the entire place. I swear to god everything is surgically grafted

into

something else.

So, I've had enough. DH takes a month or so off for Christmas every year and that's when he does inside projects. We went and bought some 1.75 butcher block for the counters out here and the little butler's pantry, I treated it and that's what DH has been doing. It fits the rural/old aesthetic nicely. It feels nice, velvety. It glows. You can't see it but the wood patterning is beautiful.

And it ISN'T that stupid tile.

I've also decided that next year we're getting a soapstone sink to replace the big farmhouse one that's beat to hell.
You are so funny! I absolutely LOVE the butcher block. That is gorgeous! 200 years old, wow. Are you in the US? East of the Mason-Dixon if so, I presume? I bet it's beautiful regardless of the uh, "whimsical" choices made by past inhabitants.
What are horsehair walls? I'm afraid to Google. I've never heard of that!