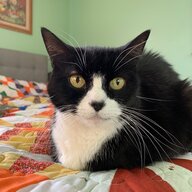 Joined

Aug 14, 2018
Messages

1,814
Unfortunately this project has been canceled. The in-process pendant and stone were lost in shipment back to CVB.

Caysie and Frederick were very helpful and accommodating,, and Frederick was able to get a new rough cut by Ryan in an amazing amount of time. Again unfortunately, the new cut gem silica was smaller and didn't have the higher dome that I loved with the original. I'm sure the new stone will find a happy home. I really like this setting for a pendant and may pursue it again if I find a stone for it. For now though, I have enough funding tied up in other projects that I need to finish up.
Oh no!!! I'm so sorry to hear that. I wonder if it might eventually turn up?