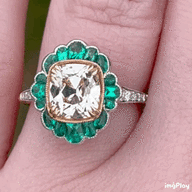 Joined

Jan 29, 2012
Messages

4,766
I think the pink pair look amazing with the emerald too; it almost looks like watermelon bubble gum lol. The red pair look a little too Christmas-y with the green, so I think I'll set the pink and green into a 3-stone ring. Not sure if I want to do N-S or E-W for more finger coverage!

As far as the red pair, still debating if I want to set it with the gray spinel or go back to a cuff/bypass style ring idea. So many decisions...
I vote N-S, if your taking suggestions.