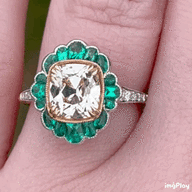 Joined

Jan 29, 2012
Messages

4,470
These two rings are done. Spess garnet and Mahenge spinel trellis ring, and a tanzanite and Mahenge spinel cluster ring. I hope I get them this week. Come on, USPS!

Calling

@2Neezers

because I got the tanzanite from her.

Daniel M's speed in completing these projects was incredible. It's barely over two weeks since he sent me the CAD, and a good part of those two weeks was a big holiday.

To be honest, I was looking forward to the spess getting set more so than the tanzanite, since this was one of Dana's last Namibian spess garnets from old stock material. However, after seeing Dan's pictures, I'm looking forward to the tanzanite cluster ring more. Based on what they looked like in the gem jars, I didn't think the colors on the tanzanite and the spinels would look so intense. But it's true, what PSers say about stones darkening when they're set compared to what they look like loose. In this case, I'm happy with the difference!
I just adore how that tanzanite ring turned out, what a gorgeous color combo!