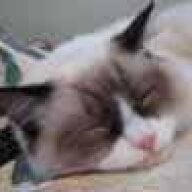 Joined

May 9, 2004
Messages

5,609
Well, we've got a great thread of 3+ carat center stones... and another wonderful one of 1's and under... but nothing for our 2 carat beauties! Can't have THAT now, can we?!

So I thought it would be fun to start a special thread to post all of our beautiful 2 - 3 carat diamonds -- plus now we'll have them "all in one place".
Along with photos, please include "specs" and ring size. Thank you!
I'll start with mine. AGS0, 2.367 J/SI2 RB. It's as white as can be - and totally, 100% eye-clean. Mmmmm, perfect and gorgeous. I LOVE it!

(Ring size 4.75)
The thread (with more info and additional pictures) can be found here:
http://www.pricescope.com/forum/steam-room/ta-da-t31435.html
Lynn