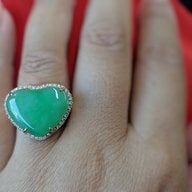 Joined

May 17, 2014
Messages

5,228
Was this the one we saw pictures of?
She's a nice dark blue.
Send her back, purely because they're asking a king's ransom. If it was 800 for the stone, sure, but not 800/ct. I'm sure they're marketing it as cobalt. It's a personal pet peeve, but normal for retail. It's why I haven't bought a spinel retail in forever. Everything is either Jedi, Mahenge or has cobalt! now- the trouble is many of them aren't near the color that command those prices, while charging for it anyway. I'm probably being stubborn to the fact that they will very quickly lose the advantage of any appreciable affordability.
Boo hiss!
Hehe my husband routinely makes fun of my Spring Jade bangle (I love that thing!).
According to him: So one day the jade sellers had a bunch of half purple/half green bangles they couldn't flog and decided to market them as "Spring" and now decades later you're on a frenzy looking for a bangle that couldn't be purple or green in its own right.
I think the key is that it must be beautiful to you
@Crimson
. It's way too dark for my tastes, especially at that price!
The whole concept of marketing reminds me a bit of Muna Jade. Sometimes it looks kinda like food that is in the early stages of developing mouldy spots but they want the earth for it because it's Muna.