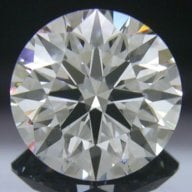 Joined

Jan 11, 2010
Messages

117
Finally my ring upgrade was done. I received my new ring last Monday night, and got chance taking some pictures earlier today.
So I am able to share it with you all.
Around the end of May I was debating hard which stone to get and posted questions in RockyTalky:
[URL='https://www.pricescope.com/community/threads/help-should-i-melt-two-stones-into-a-bigger-one.161176/']https://www.pricescope.com/community/threads/help-should-i-melt-two-stones-into-a-bigger-one.161176/
[/URL]
It was a hard choice to make within days since I could not put them on hold longer. So I decided to foucs on light performance, then the size/cost. Based on the input from you and
JA
team, I proceeded my order with 2.53cw I VS2 55, 61.5, 34.5, 40.8, and had
JA
to modify and set it in my existing six-prong setting.
This is my first purchase/jewelry project with
James Allen
. My experience with this purchase has been great although there was a little bump on the road. But it has resulted in a ring I love at the end. Since I live in NJ, I took advantage to view stones in
JA
's New York office before my purchase. I met with Julianna (gemologist) and viewed two stones (inlcuding 2.53cw I VS2) during my first visit. Julianna is a wonderful lady/gemologist to view stones together. I was very impressed by her knownologies/honest opinions/suggestions. She has a pair of great trained eyes. With her help, I learned to see how a lot of tiny SI1 cloud inlcusion impacted on light performance although it could appear as eye-clean. ... I decided on 2.53cw I VS2 after a day viewing stones and had
JA
sale associate (Adam) to send me order confirmation. But just a day after receiving order confirmation, I found two more larger stones I would like to consider. Adam arranged to get stones in and find time for me to view them with Julianna again in NYC office immediately...when I was debating on 3 stones, I found another stone re-appearing on market, which I was checking before. I requested it to be inspected by a gemologist. By then I had 4 stones to choose from, but after input from you PSers, I know my main focus was on two of them ( 2.53 vs 3.02). Too bad Julianna was on vacation...without talking to her I felt hard to pull final trigger. I emailed Jim too and got his reply back. Later Josh( sale manager) called me and helped me sort out choices. My order of 2.53cw moved forward ... I was impressed by how professional the entire
JA
team. handled my purchase. They honestly answered my questions based on fatcs and my priorities even after I said My husband/I were fine to pay out $13k more for a bigger stone if it made sense. ... A week later my ring arrived. It's perfectly made. But too bad it's not in my original setting style. However, the stone is gorgeous. It's like a fire ball. Under sun I could not look at it directly without a sunglass on ....I tried my new ring on for 2-3 weeks to see if I could get used to the new setting style. ... The style of new setting set stone a bit too high for my taste, and the prong was a bit "too strong" for my taste either, so I let
JA
know weeks later that I decided to get it changed. With Julianna/Josh worked together with
JA
production, I got back a ring I love! I was once again impressed by the way
JA
team handled the issue. Its customer service is just great! Also
James Allen
offers great price on stone with great choices, especially with PS discount.
Ok, let me show off my new ring, and thanks for lettingme share ...