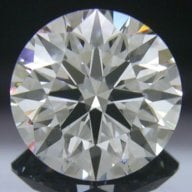 Joined

Jan 11, 2010
Messages

117
First, thanks to many of you who have made this forum full with wonderful information/knowledge/advice/suggestion.
I definitely have learned and benefited alot from reading over many posts.
One advice I get from the reading is to get a stone the budget permits so that don't keep upgrading when DSS happens.
How did DSS happen to you? Can I tell if DSS will come to me years later? how big is enough?
I guess it's hard, so I like to hear your suggestion from your experience.
Here is my story --
I had my first upgrade in 2007 from 1.08 H VS2 to 1.38 E VS1 ideal cut. I made my original eStone 1.08 H VS2 into pendant - closer to my heart. The 1.38 E VS1 was set in my original 6-prong solitarie setting and I have been perfectly happy with, except that I feel it's small when put it next to my new 5-stone ring that I got last Fall.
Since then I have felt I need a bigger stone. Unfortunately I had been pretty busy with my work and I did not put it in action until recently -- the price has been up a lot .

During April, I found a few of stones based the cut knowledge I have learned here. then I narrowed them down to 3 stones in 2.5-2.7cw range and with you experts' input I put one of them on hold about 1.5 weeks ago - I VS2 2.53 ( just after that the price was up another ~5%
). Then two days ago I found two bigger stones with nice cut. 2.80 and 3.03 -- unfortunately after the price increase I observed. They cost a lot more. Look like the price will keep going up until we all give up purchase( will you?). So I asked myself if should go for a bigger one. So I arranged to view them all together today.
In term of size, I know I am now happy with 2.53cw. But I don't know if I will think about 3cw+ 5-10 years later.
With 2.53 I VS2, I don't plan to sell or trade in 1.38 E VS1 which I got an offer more than what I paid for ( still 4-5k less than market value). The key reason I don't want to let it go is that I like it. I plan to halo it and make it bigger. Also with owning an E stone, I feel fine to lower color and make this purchase more affordable. But it does look small when put it next to 2.53-3.0cw.
In term of color, of corse E is much better or whiter than H/I from the side view. But it's hard to tell much diff with my un-trained eye from the faceup. H is just a little whiter then I from the side view. Among the choices I am fine with either I or H.
In term of Cut, both 2.53 and 3.02 are equally nice and they are better than 2.80 (GIA symmetry is VG, HCA 0.8 ex/ex/ex/ex) .
Without putting them side by side, it's hard for me to tell the difference.
The gemologist suggested to pick between 2.53 and 3.02
In term of clarity -- 3.02 SI1 is eye-clean from top/side view. Under loop, I can see a white inclusion off the table onthe side. I have no issue to accept it.
Finally it comes to the tough part -- the size and $$.
Yes, 3.02 is 0.5mm bigger than 2.53 I VS2 with additional $13k.
It kind like to "melt" (2.53 I VS2 + 1.38 E VS1) together for a 3.02 H SI1.
2.80 is 0.3mm bigger than 2.53 with $4700 more and less cut quality
Hmm I cannot decide... I feel I am losing my head. Help me vote it, and I attach some not very good pictures to show the size different.
2.53 still give a wow if not put it next to 3.02.
1.38cw E VS1, 7.14mm, GIA
2.53cw I VS2, 8.76mm, GIA
2.80cw I VS2. 9.06mm, GIA
3.02cw H SI1, 9.27mm, AGS