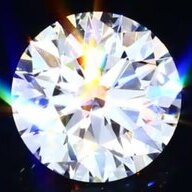 Joined

Sep 13, 2018
Messages

1,076
This thread has been rather convoluted.

Last time we heard from the OP, she was going the next day to pick up paperwork from a gemologist that had been inspecting the stone. This was the proof she needed to back up the clarity enhanced claim of jeweler number 3 above. (These are not the same people as I understand it now. At first, I thought they were.)

Having not heard back from the OP, and then looking back over this thread to try and piece together what might have happened here, I'm beginning to wonder about jeweler number 3's CE assessment.

So here's my question:
If a blue/purple line is seen in a stone under a microscope, does that automatically equal CE? Is there anything else that line could be?
The reason the line appears is because the filling does not refract light the same way as diamond.