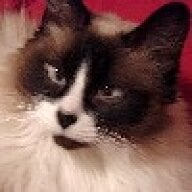 Joined

Feb 28, 2007
Messages

2,146
After being a lurker here for about a month, I have finally mustered up enough courage to post.

My bf will probably be in a position to propose in a year, but I wanted to start looking at settings to give him an idea of what I like. For some reason, I want him to make the final selection, but I would like to give him some ideas.

My situation now is to figure out which settings would look best and fit with my personality. I have been to a few jewelry stores and I get so overwhelmed by the selection, so I thought I would come on here and ask for some help to narrow down my preferences.

I have used this site''s resources and learned about how to pick a good diamond, going beyond the 4 C''s. When the time is closer, I will suggest that my bf come onto this site and check with the "experts" regarding a few diamonds he is considering at the time.

In terms of the stone, I am highly encouraging my bf to get an ideal cut round stone H-I in color that is Si1 in clarity to get the best value. I think I would like platinum or white gold for the setting. I have been reading about the pro''s and con''s regarding platinum and white gold and am still considering both. Budget for the stone + ring $6500, so I know that makes things tough.

My ring size is a 5.75-6 and I am 5''8" tall. No one has ever said I have "piano" hands, but my friends tell me I have very nice "girly" hands that they wish they had (my friends have nice hands & I am not sure what makes my hands better than theirs). I would say that my hands are not overly delicate, but definately not "sporty."

In terms of my personality I am kinda girly with tomboy tendancies (likes outdoor activities and watching football). During the week, I dress up for work, which can mean suits or dress pants with sweaters/blouses. On weekends, definitely nice jeans with a sweater works for me. One of my favorite stores is Banana Republic - maybe that will help define my style a bit more?

What I can tell now is that I am not interested in 3-stone rings, nor heavily embelished rings (heavy pave, excessive side stones, etc). But would not mind more subtle flair (side diamonds, simple pave, etc). I do not want settings that are too high, but not interested in a low setting either. I know this is all very subjective...

If any of you ring gurus can suggest examples of settings to consider, I would appreciate it. This is suposed to be a fun process, but I find myself overwhelmed with choices!! I really just want my diamond to pop!! HELP!!