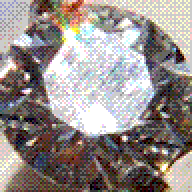 Joined

May 17, 2003
Messages

211
I just ran across this forum and it seems like a great place that might be able to help me out! I''ve been looking at diamonds both locally and online. What I want is a round 1.3-1.5ct, SI2, J or better diamond. I want a big diamond who''s inclusions are difficult to see with the naked eye and I''m mounting it in platinum so I need atleast a J color. I''ve found diamonds in this range to be more expensive than my budget allows.

But I don''t want to simply aim my sights lower and so the search continues.
My budget is not fixed in stone (heh) yet as I have to take out a loan to buy a ring and do the marriage/honeymoon. I''ve already proposed (yeah kinda lame but in the situation it was necessary). Anyway, my budget is something like $4-5k.
Here are some quotes I got at a local store:
1.5ct, I2, H, $4310
1.2ct, I1, K, $3775
Not exactly what I want. Here are some stones I''ve found online:
1.50ct, SI2, H, 61.7 depth, 61 table, no cutlet, polish VG, symmetry VG, no flour, 7.37*7.31*4.53, EGL cert, $3855
1.42ct, SI2, J, 60.9 depth, 62 table, no cutlet, polish VG, symmetry VG, girdle MF, MB flour, 7.19*7.11*4.36, EGL cert, $3578
More like what I want it seems. From the poking around I''ve done, these prices seem extremely low! I have always said, if it seems to good to be true, it probably is. What is the deal here? The place will allow me to buy the diamond and ship it to me, giving me 10 days to return it. I am really considering doing this as it doesn''t seem like I will be able to get the diamond I want any other way. Will I be wasting my time? It will cost me probably $40 if I decide to return it, but if it is what I want then I will be very happy...
Thanks in advance for your help! This has been a difficult thing for me. I have about 1.5-2 months left to find the right diamond and setting. Any advice/suggestions/etc are very much appreciated!