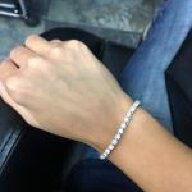 Joined

Sep 28, 2015
Messages

42
So I'm finally ready to order my e-ring! (We returned the original e-ring, it was a very sweet and complete surprise, he made sure it was refundable so we can look together afterwards).
I'm getting a ~1.5ct stone, excellent cut/polish/symmetry from
bluenile
(don't get mad, I just can't see much difference between ideal cut and true H&As, so decided to go with
BN
as opposed to
WF
and BG). Getting some real pictures from them in the next couple of days for the two stones I'm considering, and then I'll be ready to order.
The setting I really wanted was this one in 18K white gold (my wedding band is in WG), copy paste in your browser, don't know what it doesn't work on click:
http://www.bluenile.com/build-your-...lier-solitaire-engagement-ring-platinum_41262
But they say it will take until mid february to get it made! I can't even order it now. Also, they have a special promotion that gives 500$ credit towards future purchases for custom made rings, and I won't be able to get that promotion either.
They have a similar setting, do you think they are close-enough/is this one nice? (Look at the actual 360 videos as opposed to the main pics, there is a weird gap in their main pics that doesn't exist with diamonds >1ct) copy paste in your browser:
http://www.bluenile.com/build-your-own-ring/white-gold-engagement-ring-setting_19285
Is it worth the extremely long wait (I'm dying to get my ring!)/losing $500 promotion to wait for the first one, or do you think the second one is fine? I'm not sure I prefer the first one so much more, what do you think?