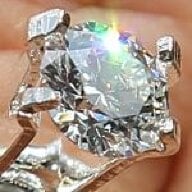 Joined

Apr 25, 2014
Messages

8,221
Hi all,
I just thought I'd ask the question as I've found two different conversion charts online and I'm, er, somewhat confused...
lol
For example, this webpage:
http://ringsizes.co/
states proudly in capital letters that it is "The Official International Ring Size Conversion Chart", whereas this webpage:
https://www.etsy.com/uk/listing/275431752/free-gift-for-you-ring-sizing-chart-ring
has two different size charts within it
So, as an entire selfish example, the other half's ring size of 'O and a half' in UK size is either a US size 7.25 (according to the first link and one of the pictures in the second link) or is a US Size 7.75 (according to the other two pictures in the second link).
Half a size difference could make
all
the difference in having a ring that is 'just right' or a ring that is 'way too tight', so some clarity would be great, in order that we could order from the US and know we're getting the right size!! lol
Of course, one then has to ask a vendor which conversion chart they are using (if any), so it does seem the best way to do this is to just find a ring that fits perfectly and then get a micrometer thingy out to actually measure its internal diameter in proper SI units of measurement...