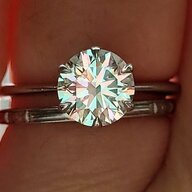 Joined

Feb 25, 2015
Messages

508
@meesmom

Ooh nice find! It's also the powdery stuff on Sour Patch Kids, so I agree it can't be that aggressive. It's definitely not a problem for just about all diamonds but I think acids are still not ok for gold alloy metals. BTW I got myself a jug of distilled water just for jewelry cleaning and it does make a big difference! I've also started taking my rings off (when at home) before I wash hands.
Didnt know that about the sour patch kids...so interesting! I have a little distilled water too, i know its better than tap but im too lazy to go downstairs to get it half the time, haha...i usually take off my rings too but havent been. Too humid here and they are too tight lol!
Anyway, my daughter is missing part of her kit. Shush, dont tell her!!