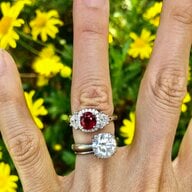 Joined

Sep 16, 2019
Messages

123
Hi everyone,
Recently I noticed that my 2.23ct E VS2
CBI
had been looking a little muted- she was still as white as ever, but lately she had been much less lively (loss of fire, sparkle and contrast). I looked under my 10x loupe and saw what looked like faint milky streaks and "bubbles" on my diamond. I was baffled because I clean her religiously- I'm talking OCD style- at least once but more often twice a day! Here's what I do: I either coat her in Lavish jewelry cleaning foam or I soak her in a ramekin of hot water and Dawn dishwashing liquid. I then take the soft jewelry brush that came with my Lavish and meticulously clean all the surfaces of the diamond and the nooks and crannies of the setting, including poking the bristles into the sides and undersides of her Mark Morrell platinum setting. I even make sure I get to the diamond's culet. Finally, I rinse my e-ring in hot water and immediately dry her with a soft cloth. Often I'll finish with a cool blast of my hairdryer or dab her with an alcohol wipe. On top of that, I use an ultrasonic once a week to make sure any caked-on lotion, hand sanitizer or grease gets kicked to the curb.
My theory is that my diamond has accumulated serious mineral (calcium carbonate) deposits on her. This would seem to make a lot of sense as I moved to an area with insanely hard water. Our water leaves mineral deposits like I've never seen before. Chalky white water spots show up on the shower glass door after just ONE shower, and I have to descale my hot water kettle at least once per week. See attached picture below of the milky calcium carbonate build-up that happens in my hot water kettle just 4 days after being de-scaled! It is hard to believe that the interior of the kettle is as reflective as a mirror when it's descaled.
I searched Pricescope for advice on cleaning diamonds with mineral deposits and only found a few mentions regarding this specific problem. I saw that vinegar was mentioned a couple of times so I soaked my e-ring in household white vinegar for a couple of hours. I saw modest improvement but not enough. So I had the idea to use what I use to descale my hot water kettle: I decided to soak my ring in 35% citric acid solution, as I read on the internet that organic acids are safe for diamonds and platinum metal. I wore gloves when I plucked her out so as not to touch the acid. Voila! 90% of the scale is gone and my
CBI
has found its original liveliness again.
Soooo I should probably have posted my query before going ahead with the 35% citric acid, and now I'm concerned if this is okay? If it is indeed fine to use citric acid, is this something I can I do once a week without harm to my jewelry? Can I go to a stronger concentration since I still have some mineral scale left on my diamond? Please please weigh in, jewelry/diamond pros (
@Wink
,
@Rockdiamond
,
@Texas Leaguer
), scientists and anyone who has conquered this problem!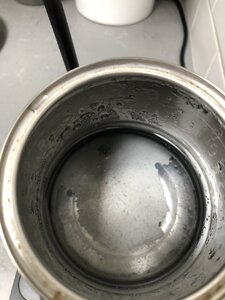 Last edited: