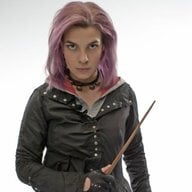 Joined

Dec 27, 2017
Messages

378
This ring is an antique that came to me as an inheritance on the death of my beloved grandmother last year. I have wonderful memories of her wearing it. The ring started off life as a watch cover. The ring shank was added later.
I've had it for some time but haven't posted it until now for several reasons. For starters, I wasn't sure I was going to keep it set this way. The stones have a lot of negative space, and I toyed with the idea of a re-set to push them closer together.
Size: I also liked the idea of making the overall diameter of the ring a bit smaller, as it seemed a bit much for anything other than cocktail wear. I thought about making it a pendant.
Also, due to age and wear, one of the stones on the outer octagonal frame is chipped significantly, and in most lights it shows as dark. I was toying with the idea of replacing it.
But then, one cold night this winter, my fingers were shrunk to the point that wearing this out on my ring finger felt insecure. So I flipped it over to my middle finger. And ta -dah! A whole new relationship with this ring began. For some reason, the diameter that felt too cocktailish on my ring finger is perfectly comfortable when worn on my middle finger, even in the middle of the day with jeans. (Why? I have no idea.)
And as I have worn it, I have grown to love the tiny imperfections that at first I thought to fix. The dark diamond on the frame seems almost like a beauty mark. The negative space between the stones allows me to really appreciate the different cuts.
Most importantly, it is a beautiful reminder of a lovely lady who was a great influence on my life.
There's a fabulous Emma Watson quote that sums things up here: "There's nothing interesting about looking perfect—you lose the point. You want what you're wearing to say something about you, about who you are."
I have decided to name the ring Emma. And to wear her and love her exactly as she is. (Though I do need to size her to make things more comfy for that middle finger).
Anyway—THE DETAILS.
1 emerald cut, .52, I, SI1
4 old mine cuts, each approximately .27 (4.3 mm), I-J, SI1 to SI2.
4 round brilliants, each approximately 2.3 mm, H-I, VS1.
Octagonal frame is bead set old European single cuts, H-J, VS1-SI1.
Estimated tcw from recent appraisal: 2.68