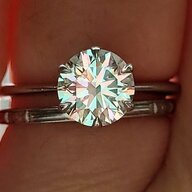 Joined

Feb 25, 2015
Messages

411
If it was an issue with your other ring that you got rid of, I can't see why it wouldn't be an issue with any other ring?

I think you shouldn't rule out asking CVB about what your options are or availability on 'weathered' milgrain, though.

Or even if there's a gauge you can choose from, ask for finer/more notches per inch? Is the make of your other band's milgrain something that can be quantified as a standard per inch notch for that manufacturer as a benchmark you know it needs to surpass?

Could the milgrain on this new ring be put on the inside of the lip instead of the top ridge? Think I've seen that done on inside of bezels, not on the top ridge of the bezel?

This picture shows

top ring supposedly 1940's 'unused' old stock

Middle ring worn and weathered 1920's

Bottom new CVB ring

The CVB is fine, but you can see the vintage rings are more notches per inch. I'm assuming it's a choice you can make, but may depend on the bench?

I'd pursue the possibility of the milgrain on the inside of the lip, if you like the tiny detail to be there, if I were you.

Beautiful set you've chosen!
This is extremely helpful, thank you!! I have spent a lot of time blowing up any images of the riviere band i can find and it does appear that the milgrain is more towards the inside of the band.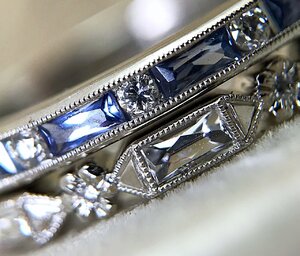 I will ask if there is a finer gauge too, thank you! And yes, weathered milgrain, i like that was of putting it much better!!