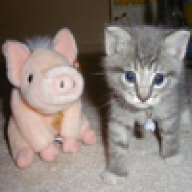 Joined

Nov 28, 2006
Messages

220
*she asks sheepishly and ducks in the corner*

I have wanted a diamond engagement ring, or anniversary ring, for a while now. I thought about waiting 2 years, putting it at the 5 year anniversary mark, but I'm thinking I want to move it up sooner. It's just that I'm excited about it *now*. On top of that, our income is very high and I'm only interested in a 3K ring (I debated on how to say the first part of that sentence with tact, let me know if I crossed the line). My husband on the other hand, doesn't see the rush. He just bought me jewelry for Christmas, and I can see his point, considering he bought me the same painted daisies from the grocery store two holidays last year this is a step up for him. He's not the type to deny me anything if I outright ask for it, but I don't want to seem greedy.

Should I just wait it out? Is it too much to hint that it might be a nice valentine's present?