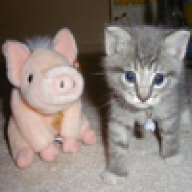 Joined

Nov 28, 2006
Messages

220
I worry that other people might think I''m greedy or a gold-digger for having so much jewelry. Esp. my in-laws and other relatives. Like I''m stealing my husband''s money for myself. I don''t work outside the home. He makes more than we know what to do with, would rather I take care of the house than he do it, and I''m fulfilling my dream of being a full-time fiction writer.

I have a gorgeous colored engagement ring that has tons of sentimental value, but is too large for regular wear. I''d rather have it as a pendant, where it still has all that sentimental value and beauty, but won''t be knocked into everything by me. Most people think that ring cost upwards of the double digits because it''s big and beautiful. It didn''t. It cost $3500-- less than half of the two month salary of what we made at the time. I''d like another ring to wear, but I''m worried people will think: "geez, ANOTHER ring?!"

Because in addition to my e-ring I have a diamond band that I sometimes wear as a wedding ring, a rather large and beautiful birth stone ring that I wear instead of my e-ring sometimes (I don''t like the look of wearing more than one ring at a time), a thin platinum band that I got a few weeks ago because I never had an official wedding ring, a silver locket, a silver bracelet from Tiffany''s, and a handbag necklace with pink sapphires and diamonds. My husband has bought me all that in the past 4 years. I don''t have any additional jewelry that he didn''t buy me. I can see how it looks like I have a lot of expensive jewelry, esp. expensive rings. Since I use my ring finger for all my ring, I can see how people must think I have a ton of wedding and engagement rings.

I''m thinking of scraping the whole project of a new engagement ring because I don''t want people to think badly of me. I''ve considered a more anniversary-style ring, but what I really want is a bezel set .5 carat round diamond. That''s unmistakably an engagement ring.

How do you deal with not caring?