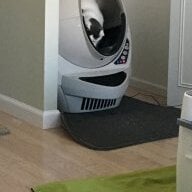 Joined

Jul 27, 2011
Messages

6,586
First and foremost:
Pricescope
- what a lovely lovely enabling community

!!!
What an awesome
IDJ
journey!

Special thank you to Yekutiel and his family. You know it's bad when they know it's Pinto Bean calling because they recognize my phone numbers - landline and cell! All kidding aside, I truly value the customer service I get from
IDJ
. I am always impressed by all the personal touches - Yekutiel remembers EVERYTHING! It's also scary, wallet-wise, when a vendor understands your taste and expectations and brings your attention to something they have on hand and thought would be perfect for you! I was so impressed by the diamond
IDJ
found for cchloe that I asked Yekutiel to start searching for a 2 ct + round for me. By that time, I had already placed an order for the 3 prong tennis bracelet. I started wavering when it came to searching for a 2 ct-ish round because my mom already had two rings that were around that size, which she said would be mine. Was it worth it to spend money on yet another 2 ct-ish round, EVEN if diamonds are at a low, price-wise, right now? I called Yekutiel to tell him to call off the search for a round diamond, and he answered the phone, saying, "I was just thinking of you! I pulled this gorgeous 4.02 K VVS2 emerald cut with very strong blue fluor for a friend to see the other day. He wanted to see, size-wise, what a 4 carat EC would look like. I thought of you and I think this would be perfect for you!" Talk about that memory of Yekutiel's - I own and have a fondness for K's with fluor! I went
an EC that's 4 carats?!?! HELL YEAH



Here is the RT thread on the EC. I have lovingly named it "Miami Onion Roll." You see, it's a fatty EC with a ratio of 1.3, so to me, it's shaped more like a Miami Onion Roll than a Baguette (my joke with
Ilander

). And I like the irony that as a VVS2, it's as clean as can be, clarity wise, whereas Miami onion rolls are riddled with onions (white inclusions) and poppy seeds (black inclusions)



Miami's specs are in the RT link below:
[URL='https://www.pricescope.com/community/threads/emerald-cut-input.221790/']https://www.pricescope.com/community/threads/emerald-cut-input.221790/
[/URL]
IDJ
ended up creating a beautiful BEE-YOU-TEA-FULL beautiful setting that I have named "NOLA". Perusing through the stuller site, I really liked the fleur de lis basket. We started with that head as an inspiration, and modified it. At first, I was resistant to Yekutiel's suggestion of cathedral shoulders, but I ended up going with them and I

the cathedral shoulders! I asked for a rounded comfort fit band, and a rounded knife edge and taper towards the top of the shank. The setting truly exceeded my expectations. This hangout thread linked below has lots of
IDJ
goodies including my on-site visits to
IDJ
and other PSers'
IDJ
goodies and journeys. Embedded in the thread are my setting journey. It's a fun fun thread with lots of diamond ****, so I do encourage people to peruse it!
[URL='https://www.pricescope.com/community/threads/upcoming-idj-visit.221254/']https://www.pricescope.com/community/threads/upcoming-idj-visit.221254/
[/URL]
My tennis bracelet - weeeee!!

It is 4.75 cts with 47 F/G SI melee. It's gorgeous. I think the fit is perfect - we can fit one finger under it.
I wanted a band to go with Miami - well, I didn't need a band, but I used Miami as an excuse to get a band! It's 0.49 ctw, half eternity channel set milgrain pave band. It's fantastic!
Last night, I was a little bloated after a wine tasting party where I inhaled 3 empanadas, a small cubana (sandwich, not person

), and cheese with the tasting, but this AM, OMG - DH surprised me with breakfast and it was an onion bagel with lox and scallion cream cheese and iced coffee. I BARELY GOT THE RINGS on and off for the photo shoot in natural lighting. So, I apologize in advance for all the extra finger muffin top in my hand modeling shots. It was not easy getting them off and on this AM
I have two sets of photos - set 1 was from last night with indoor lighting. Set 2 is day light/natural light. It is rainy and overcast this AM. Enough yada yada, Pinto Bean

Miami and Nola under indoor lighting conditions: