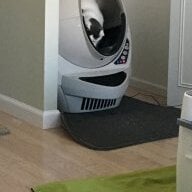 Joined

Jul 27, 2011
Messages

6,408
ac117|1477268350|4089871 said:

Ohhh my blingtastic friend how you never cease to amaze me!!!!

this has been a fantastically sparkly year for you indeed!

loveeee the new additions and can't wait to play with the new baguettes!!
Thank you ac117! Baguettes are great - 0 calorie bread basket!


december-fire said:

Pinto,

Your adorable kitten is so cute!

You have great taste in jewelry! Everything is top quality, classic and timeless.

You've got an incredible collection of pieces that all look fantastic on you!

I have no doubt that these wonderful pieces will bring you much joy for many years to come.

Thanks for sharing with us!
You're very welcome, december-fire!

and thank YOU for your kind, thoughtful, and very flattering compliments! Kitty knows she's adorable - she's the baby of the 3 and OWNS it!

Alex T said:

Wow! I am in serious awe & envy!!

I love the new additions, but I am still in awe of Miami
Thank you Alex T

Miami truly is awe inspiring to me as well. I love having PS to share and enjoy my bling with!
RosieR said:

OMG PintoBean! That BAND!!!!

Wear all your 2016 bling in health and happiness! thanks for sharing the journey
Thank you RosieR

CareBear said:

I love the clawed prongs on the EC band! The Miami and the band together is TO DIE FOR

And I didn't even know you were getting hoops made?! I look forward to your 2017 bling!
Hahaha

CareBear enables with tons of care!