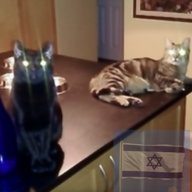 Joined

Jun 8, 2008
Messages

45,837
Took Lucky in as I have been suspecting since November that something wasn't quite right, especially with her breathing heavy at rest. Glad I did! We're looking at a grade 3 heart murmur, there's now some investigation into whatever else we need to do.

Lucky is my heart, just something about her made my heart dance and sing from the moment I saw her. And I knew she was mine from that moment too. She didn't show well for anyone else but me, so maybe kismet. But she's now 10 so I worry a lot. Greys can live to be 14 so I'm hopeful that whatever else gets found is going to be manageable. I'll update when I know more.
Sending you and Lucky many healing vibes and good wishes
@Arcadian
.
(((Hugs))).