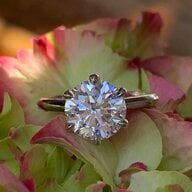 Joined

Dec 9, 2018
Messages

1,174
@lulu_ma

I'm hesitant to take a detour on a thread dedicated to your gorgeous new diamond, but given you did ask. Here's an image taken from the GIA website. It shows what GIA considers to be the patterns typical of their three types of round diamonds.

The Old European designation has the smallest table and more of a pinwheel pattern. The Circular Brilliant has a larger table and longer lower half facets that create the flower petal pattern. It is possible to have a flower pattern with an Old European but the table and lowers have to be at the limits of those allowable by GIA for that designation.

In the above Old Euro photo you can see the tips of some of the lowers just starting to peek out from under the table. These will become more visible as the diamond is tilted backwards and forwards. This appearance and disappearance of the pattern can be beautiful and mesmerizing.

The trade seems to use the term "Old European" for both GIA designated Circular Brilliants and Old Europeans. You won't know which one you are getting until you look at the GIA cert. As far as I can tell there is no difference in pricing between the two designations. There is no "best" pattern, it's all down to personal preference.

As to what cut gives the most sparkle? Well that topic would need a thread of its own, but given we don't get the cut information on these GIA certs, it might not be of much use. You pretty much have to learn how to recognize a good cut by eye!
Thanks,
@prs
and thanks,
@lulu_ma
, for indulging my questions and tagging experts
. In hindsight, I should have created a separate thread instead of asking here on your unicorn thread.