Hi everyone! I love Meghan Markle's (original) engagement ring, and am currently looking to get one made in moissanite. I really like the proportions of the stones, and the way they look on her finger wrt coverage, profile etc.
Ultimate guide to Meghan Markle's engagement ring. Find out what size diamond it is, how much it's worth and where you can get a similar ring yourself!
www.ringspo.com
It says here that the main stone is a 9x7.5mm cushion, with 4.5mm side stones. Does that seem about correct? And should I go with an antique or brilliant cushion cut center stone? Round brilliant or hearts and arrows for the side stones? Shank width ~1.6mm.
This will be my everyday ring, and I'm going to be getting it made in 14k yellow gold, with white gold prongs.
This will be my first time ordering from a Chinese vendor, and I would appreciate any tips you have for a newbie. Also, any preference between Tianyu and Starsgem?
I've also attached a picture of a setting that might replicate the look. What do you guys think?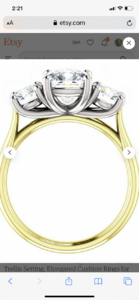 Thank you so much for reading!