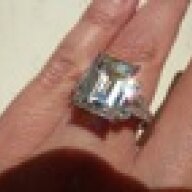 Joined

Jul 30, 2004
Messages

605
Gosh, I don''t know what to say except THANK YOU for all of your wonderful compliments!! I''m so sorry that I disappeared for the weekend...family stuff, ya know? It was so nice to come back to everybody''s replys. I must thank each one of you for being so kind (you all made me blush!). So thank you to valeria, dancing fire, jadaleaves, firegoddess, jetmal, mara, small, snook, qtiekiki, sandiegolady, boom, flingle, just looking, madam bijoux, widget!!, kristydarling, lorelei, miumi, hlmr, kittycatsmac, blingdiva, rainbowtrout, isaku, jcrow, pearcrazy, suzyqz, fd21bride, movie zombie, berkley, shay37, moon river, moremoremore, lizz, mrsdarlinjoy, morticia, ries, diadiva, xchick03, aphisiglovessae, sevensone,blodthecat, and ann!!!!!!!
Now for some answers....
firegoddess...justlooking is right. It was in a Cartier setting with a baguette on each side. It was kinda plain so I wasn''t necessarily thrilled with the setting, just the EC. I did keep the Cartier mounting.
jetmal....forget a pinch, I''ll need a good "punch" after this! Just so you know, I still don''t have the shrinkage syndrome yet!!!!

qtiekiki...I thought the pool in the background came out pretty cool in the picture too. I''ll have to take more like that! I was almost impressed with my improved picture taking skills.

madam bijoux....When I first got it, I was already thinking about resetting it and I was definately having qualms about losing the Cartier name but widget and I got passed it.

widget, widget, widget....I can''t believe you kept the truth to yourself!!!!! I wanted honest opinions when I got this EC. You are too much! But I''m glad you like it now. Are you sure? Or are you putting me on again?!?!?

And thanks for posting the ''before'' picture!!
bling diva....more pictures coming up!
rainbowtrout...It''s no secret. My DH is in the aircraft industry. And thank goodness for airplanes!!!!!!
dancingfire, isaku, mara pearcrazy, diadiva, ann.....I wish I could take the hand shots of everything but there have been people working in my yard all day so I can''t take everything out there until they''re gone. Hopefully tomorrow!
pearcrazy....Actually, it was three weeks for each piece. I just hadn''t posted the radiant right away. When I picked up the radiant, I dropped off the EC. It just looked like I got them within a week or so. My hubby has been so wonderful about resetting these stones and even pushed me to begin the next project. He tried to do it again when I picked up the EC but I was like "WHOA!" I need a little breather in between. He''s been so fabulous about my diamond craze. He says that he understands my obsession now that he has an obsession with watches. He can completely ''get'' why I sit on my computer looking at and talking diamonds and jewelry all the time. He''s always been great to me but he finally gets it!!!!! I''m so greatful to watches!!

Forbes list?! HA HA! I WISH!!
lizz....I agree with you about the proportion to the centerstone. That''s why I thought about resetting it soon after I got it. The baguettes seemed so small. It just took me this long to figure out what to do with it.
kristydarling...LOL! You are too funny. Where do you live? I would love to have a girlfriend in the same city that shares my obsession!
I''m sorry this is so long but I thought this was the best way to answer everyone without having to quote each one of you. It makes it so long!!!
I''m attaching pictures that I took over the weekend with paired with the asscher eternity band.