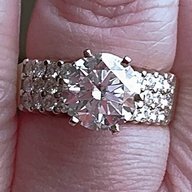 Joined

Dec 28, 2017
Messages

603
I just know me, and I'm afraid I'll be hiding my hand all the time. I got some cheap CZ earrings off amazon. It's a 6 pack in graduating sizes from 3-8mm so I can try a few. For $5 and guaranteed delivery Friday it was a no-brainer.

Ever since I started wearing jewelry in my teens I always wanted silver or white gold. Yellow was "old lady-ish" and dated to me, but I've really come to appreciate it. I'm still gonna paint it to make sure though. I may hate it! $3 spray paint is a much smaller risk than an $850 setting. Lol!

I'm thinking 5/7/5 will probably be my sweet spot, but I may surprise myself! The fact that smaller stones can sit lower appeals to me too. It's 7.5mm tall right now, so it's got presence for sure!
AMEN to that!!
Also take into account that whichever color metal you choose will have an affect on your stone color too due to reflection. I am not sure what color stones you will be ordering but if you like white color DEF (non yellow toned stones) then you will want to set them in white gold for sure as setting them in yellow gold can make them look more yellow tone in color. If you are getting G/H, it varies due to the stone cut..Metal color can have an affect on the color of the stone also. If you are going much warmer in color like J/K/L/M then yellow gold would probably be best suited for those color grades.