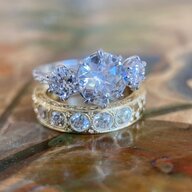 Joined

Jun 23, 2010
Messages

136
Sooo I've
probably
definitely been spending way too much time stalking gem dealers on Insta lately, and ended up buying a pair of 5x4mm ovals Paraibas (and a pair of Jedi spinel) last month from Desert Rose. They've literally been sitting on my desk while I work from home every day, so of course I'm constantly browsing setting ideas during the day lol.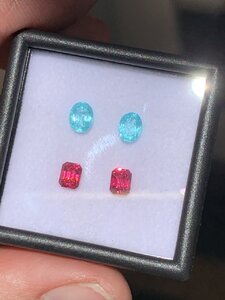 At first I thought maybe I would set them into earrings or a bypass ring, but then I thought, "Why not make a three-stone ring?!"
....So of course over July 4th weekend, I'm Insta-stalking all the vendors again and Desert Rose posted a 6.4x4mm oval, which I promptly bought. I just received it today, and while the stone itself is a good size, the color is slightly more saturated blue but not as glowy as the pair. Here are some shots of the stones together, but I swear all of these stones are such chameleons; sometimes they all look more on the blue end of the spectrum, other times the smaller pair are more green.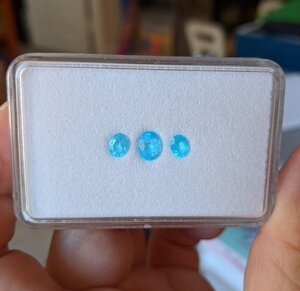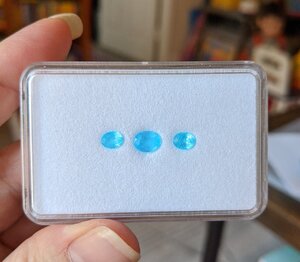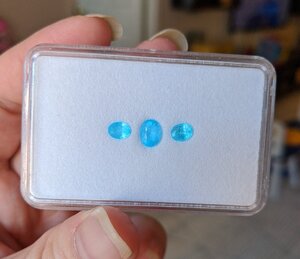 The plan was to either set it into a halo-ed three stone setting similar to
elle_71125's
or perhaps make a five stone band with diamonds or contrasting colored stones between the Paraibas.
Would the difference in shade bother you guys? Would it even matter if it were not directly adjacent to each other?
And just for fun, clockwise starting with the upper left:
(1) 9x7mm Purple tourmaline from Barry Bridgestock (it's more saturated purple/pink than what I can capture in the picture)
(2) 9mm Purple Lab Sapphire from Gene Flannigan
(3) 4.3x3.4mm Jedi red spinels from Desert Rose (the color is so gorgeous, I'm thinking of setting these in a toi et moi type ring)
(4) 2.6mm Rubies from The Gem Trader (super glowy but so tiny!)