The classic test for a window is whether you can clearly read text through it face-up - you can see an example in the image below.
The morganite is a step cut with minimal, broad facets plus a high carat weight. All these factors may cause text to be readable or cause part of the stone being seethrough at even a slight angle. But if well cut, this should not happen face-up (intuitive thinking from seeing such stones online and IRL, I don't own large step cuts to test. There are degrees of quality of precision cuts - look up John Dyer)
The shot on the leaf suggests no window.
The shot of the profile suggests a somewhat shallow cut which could make tilt windows more obvious. Keep in mind that the positive side of a shallow cut is a bigger face-up (visual/mm size).
I think you should ask yourself how much the cut truly bothers you versus how much you are searching for what is considered perfection. The benitoite I posted earlier is 0.71ct yet has a similar face-up size to a much more expensive (x5 the cost) 1.8ct sold piece I found online. Imo its often pros and cons, not always right and wrong, when it comes to cut. However, some insist on excellent prescision cut. This is where personal preference is a factor.
You did pay a relatively high price for this material so you should be 100% happy. I am far from experienced on morganite, maybe others can direct about pricing, cut quality of this particular higher quality material or suggest alternative sources.
Disclaimer I am far from an expert, this is just how I would think in your shoes.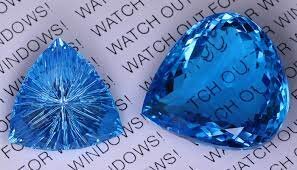 Last edited: