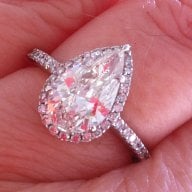 Joined

May 23, 2010
Messages

6,731
Okay, I'm outed. I've been a heavy smoker for years, but my breathing is starting to be affected, so it's time to quit.
So, Please help me do it.
Remind me of all the reasons not to smoke, stories of friends that did or did not quit, words of encouragement, do your best, whatever it is. This is going to take some time, no question. Theory has it that after 21 days, you can quite any bad habit.
So here we go.
Please no judgemental meanies, that will just make me mad, and makes me want to light up!
I've got some lozenges, I'll buy some patches, maybe some gum. The full arsenal. I'll try them all and see what works and stick with that.
I've tried this before, but I get so ticked off (I will try not to post on other threads for a few days, to avoid letting that pissiness out) and the cravings get so strong, I cave. But I really do need to stop this time. It won't be an easier at some future date.
I will post here when I'm feeling weak (like now), so maybe that will help.
Thank you in advance.