Hi there! Been doing a lot of reading on this incredibly helpful forum. Searching for an e-ring and I wanted to sort of start documenting our journey/ask some questions.
The Setting.
I am looking for a setting like on the
De Beers Promise Ring
: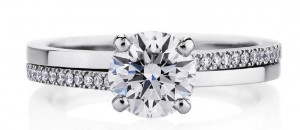 Through searching the forums, I found
this one from Brian Gavin
, but at $3100, it's not going to leave much room in our budget for the center diamond: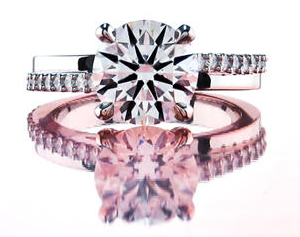 We've also found

this one from Blue Nile

.

Question: What's the consensus on

Blue Nile

?

They don't sell the setting separately so we'd have to go all-in if we go this route, but they do have a great return policy.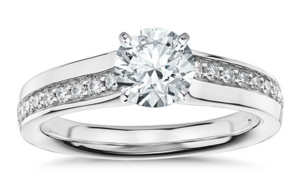 Finally, a local jeweler said she could do one for $1500. I'd say it's a pretty close match, below is the white gold version she had in stock. We don't want to buy the diamond from her, however; having done some research here, I feel like we can get a higher quality diamond elsewhere.
Where else could I find a platinum setting similar to the DB Promise?
I am pretty happy with the setting from the local jeweler, if she'll sell it to me separately.
The Diamond.
Budget is ~$5000 for the entire ring, which is tight because I'm so particular about that setting. Here is what I'm thinking in terms of priority:
Cut - I want it to sparkle beautifully so I think this should be my highest priority. I've seen a huge price jump for diamonds with hearts & arrows, but I really don't care about that, or should I? Instead I'm looking closely at table in the 55-58% range, depth 60-62.3%, crown angle 34-35 degrees, and pavilion angle 40.6-41 degrees.
Clarity - I'll probably never use a loupe outside of a jewelry shop - lol - so I'm perfectly OK with eye clean
Carat - I like the look of 1.0-1.30 ct on my 4.75 size finger
Color - this one I'm not as sure about, we've been browsing in the H-J range and I honestly can't tell the difference... unless they're held right up next to each other
I'd love to hear your thoughts on how I should be prioritizing the above, and especially if I'm looking for the right things in the cut. Thanks in advance!
Also, I've reached out to Mark at Brilliantly Engaged and will be meeting with him next week - excited to hear what he says!