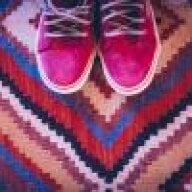 Joined

Mar 24, 2011
Messages

1,339
I have been involved with the ering process, and I told my guy I love old cuts--antique cushions, OMCs, OECs, etc. He came back to me and said that the jeweler he is working with was very strongly opposed to these stones. Im really not sure why. I basically said that I knew he knew what I liked and I trusted the jeweler and I knew they would come up with something great. My guy very much wanted to surprise me, and the jeweler is well-regarded (he made khloé kardashian's amazing ering and the stuff in his shop is fabulous) so I trusted him.

Fast forward to last night: I happened upon the GIA cert for my diamond. And it looks like crap. It's a cushion modified brilliant (not my fave). I could get past that--I really don't want to hurt my guys feelings, but there are some worrying details on the report. Here are the issues that trouble me:
It's 1.55ct, but only 6.33x6.31--faces up small, no?
Table=65
depth=69
did my guy get "taken"??? What do I do?!?! He doesn't even know I know! I'm totally losing sleep over this!!!