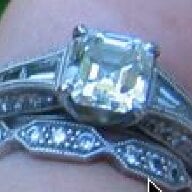 Joined

Jul 27, 2005
Messages

11,534
Can't bump the old "Hello Kitty" pendant threads ... but ... I noticed that the anchor on Fox News's "The Big Story" is wearing the diamond "Hello Kitty pendant on the air today ...
It looks cute but I have mixed feelings about it ...
I kinda think it reduces her credibility! Such a silly, girly, cartoony accessory on a serious news program? Would Dan Rather wear a Bugs Bunny necktie? Would Diane Sawyer wear Care Bear earrings?
Am I just a big party-pooper? Too judgemental?
I also noticed that our TARGET has a "Hello Kitty" enamel collection with real pink sapphires ... price point, approx $199 ...
I guess Hello Kitty fever is puuurrrrrrring right along !

ETA: got a closer look at the bling and, heh, I was WRONG. It just looked like the HK from a distance. FOOT IN MOUTH