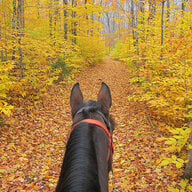 Joined

Jan 20, 2012
Messages

3,301
Hello friends,
This post probably belongs in the RT sub, but hopefully the mods will allow it since the ring
technically
involves colored stones.

I know my CS peeps will understand the need for adding color!
I recently purchased a 2.03ct. heart shaped diamond from
JA
. It's an F, VS2 with an average diameter of 8.23mm. It was strongly suggested that I should set it as a solitaire, but this isn't an engagement ring... it's just for fun (from me to me, as it were). I was really hoping to halo it.
I've already used yellow and pink FCDs in other projects, so I really wanted to incorporate Argyle blues here. But an entire halo of blues looked a bit drab in my initial composite, as the color is rather subtle (and it's
really
costly). So I thought I might do something in candy colors and use all 3.
Here's what I have... everything is to-scale (but I've just colorized stock diamond photos). The FCDs will be 2mm (with the one at the cleft being 1.6mm). The yellows and pinks will be fancy intense and the blues are BL2.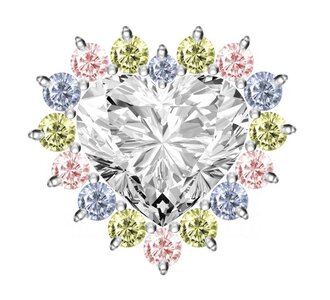 What do we think?
1. Stick with the tri-color FCDs;
2. Choose just one color FCD;
3. Use a white halo instead;
4. Just do a solitaire;
5. Add other colored gems to the halo (see, mods?); or
6. Something else.
Appreciate the input!!
Best,
Autumn