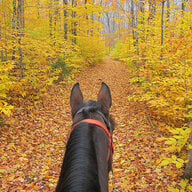 Joined

Jan 20, 2012
Messages

3,301
I actually decided to leave it as is! The gap is so very tiny to the eye when I have the ring on my hand. The more I look at it, it actually looks intentional to me, like it was meant to follow the flow of the open metal work of the scallops on the sides. After thinking it over, I didn't want to ship the ring back and forth, have the center stone unset and reset, just to fill the tiny gap. I think I was just expecting it to be one way, but once the surprise wore off, everything is fantastic and I love the ring!

Thanks for asking

and sorry to derail your thread for a moment!

I'm so excited for you to have this ring in the works!! It's going to be incredibly gorgeous!!
Well you know I felt the ring was already perfection, so I'm glad to hear that! I think sometimes we're also extra critical of a piece when we first receive it (just out of heightened anxiety), and then we settle into the piece and appreciate its own unique personality. Wear that beauty in good health and happiness!!