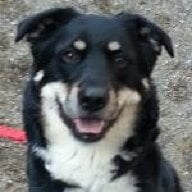 Joined

Apr 27, 2007
Messages

1,642
Marcy-I'm glad you had a fun movie night! A once a month movie night sounds good. Matt went to poker night for the first time in a long time, and he had a great time. He has really missed chatting with some of his coworkers.

Snow? Nooo! It's not time for that! I remember my MIL complaining about snow in September when they lived in Montana. But she complains about everything, so I didn't take her all that seriously. I am dreading winter more than usual this year. All this daylight and being able to go to the park everyday has sure saved my mental state!

Your dinner sounds delicious. I'm going to have to check out Omaha Steaks. We had grilled chicken, fresh green beans and fresh corn on the cob for dinner the other night, and the fresh veggies were sooo good. Last night I made spaghetti with mom's sauce recipe. I was really craving it for some reason.

We're getting ready to head to mom's as soon as the pulled pork I have in the oven gets done. It's our last bbq of the summer. Wahhh! Matt installed the outside security cameras Friday afternoon. (I never thought we'd need something like that.) Last night at 10pm I got a motion alert, and 2 guys I have never seen walked down the hill, up the driveway and the sidewalk in front of the house and kept walking through the yard into the neighbors yard. I was working in my study, which faces the sidewalk. I thought I saw something go by, but nothing was there when I got up and looked. I didn't pay attention to the motion alert because I'd been getting them all day. Matt needs to reposition one of the cameras so it doesn't pick up cars driving by. Anyway, I think that it quite creepy, especially since I was sitting right there. All of our neighbors have security cameras too, so I'm sure somebody has a good view of them.

We're off to mom's. Have a great Labor Day!