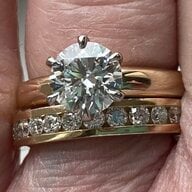 Joined

Feb 27, 2007
Messages

26,128
Hi everyone.

Cake class was fun tonight.

Marty is joining me in class and we had a good time.He is better at it than I am; probably because he is stronger and can control the frosting coming out a bit easier.

I finished my antibiotics and am sneezing tonight.That isn't a good sign.Keep your fingers crossed for me that I won't take a turn for the worse again.

Appletini, you are so dedicated to your daily workouts.You are one of my heroes.

Alli, yeah for your FI working out.Baby steps.I keep dry roasted almonds around to eat when I get really hungry.I also have baggies full of raw veggies handy too.LOL at the pizza study.

Dani, good luck to your husband losing weight.I hope you had time to pick up something for lunch.Stupid vending machine.Maybe when you want to feed the vending machine you put that money in your earring fund.
Lorelei, yeah for getting to the treadmill today.
Skippy, the days are getting longer for sure.I just wish they'd get warmer.I told my mom I need to quit kidding myself; just because it's March doesn't mean my "spring" clothes are warm enough for me.
DeeJay, pizza and ice cream sound divine and how cool your scale didn't mind a bit.Your GS cookie story is exactly why I gave ½ of the box away.

Lliang, yeah for starting a new workout routine.You'll miss your sister. I hope you aren't too sore tomorrow.
Rod, your meatloaf sounds good.I might make one this weekend.
Well, I am off to bed early.

Take care.
Marcy