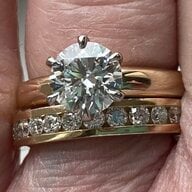 Joined

Feb 27, 2007
Messages

25,702
Hi everyone.Grandma isn't doing very well.They moved her to the hospital yesterday.We went up last night and she wasn't breathing very well but seemed okay.Something her nurse said bothered me though – she said something about her not looking too well and that her wishes are to not revive her.I thought that a bit drastic but she must have known more than we did.This morning Marty's mom called saying Lucille's brother had been up to see her today and he called them saying he didn't think she was going to make it.We were actually on our way up there and found they have her on this awful machine that is blowing 100% oxygen in to her lungs.It is very uncomfortable – she is crying.Her oxygen level was at 70% when they put her on it.It should be at 90%.We did talk to a doctor and he said if her wishes weren't do not revive she'd be in ICU with breathing tubes.He said she has a large hiatal hernia that is pushing on her lungs, she has fluid on one side and that lung is failing.Marty's folks are flying in tonight and we are going down to pick them up.Poor Marty doesn't deal well with this kind of thing.I am glad his folks are coming home though.
Skippy, I thought your taxes were done already so glad to hear they weren't stressing you out.Thanks for the well wishes for grandma.
Kimi, I am too cheap to pay for a gym when I can do other things for free so I am with you on that.Thank you too for thinking of grandma.
Well, take care.I don't know when I'll be checking in again.
Marcy
[/i]