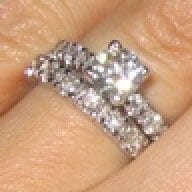 Joined

Oct 10, 2004
Messages

469
To anyone who remembers me, I have not been back in a while (over a month - a while in PS terms though!) V. quick rundown: long distance relationship, he is in California, I live in Australia. We had a talk saying we would get engaged early next year, after I have moved to California (once I graduate college, in December). This had come as a bit of a shock and admittedly, a small disappointment, to me, as I thought we would be engaged during my June-July trip (i.e. the trip I just got back from.) However, I can''t fault his logic, as we will have a lot of expenses from setting up our house together when I move there at the end of this year. So I am all set on getting engaged
next
year.
Well, I go to visit him in June, and get the shock of my life ...
We''re engaged!


So, the story. (Skip this part if you just want to get to the pics!!)
I arrived early Saturday morning. We drove to our hotel, and when we got there, he had bought me a bunch of my favourite American foods and drinks (e.g. Lucky Charms, salsa, root beer) and an assortment of trashy celebrity gossip magazines which I just (sinfully) love. So I was so happy about all of that thinking I have the most awesome boyfriend ever, that he had all that stuff for my arrival!
I then spot a camcorder in the corner of the room. I''m like um you realize I''m not Paris Hilton

and he says he wrote me a song (he plays guitar and has an amazing singing voice) and seeing as I "always complain" that I don''t have any of his music recorded, he thought he''d tape it. Me (ignorant as I am) go oh, okay!
He then pulls out a photo album he compiled of a ton of pics of us from the very beginning of our relationship till now. I am like oh how sweet! So we start flipping through it, talking about memories of certain days. And all of a sudden, he is asking me to marry me and pulling out the most beautiful ring ...




. So naturally, I say "duh!"

Yes, I actually said duh ...
But that''s not it ...
He has also purchased these Tiff & Co champagne flutes that I love, that come in a special box. I bought a friend a set as a wedding gift, and he bought them for us, to be our "celebration" glasses for when something awesome happens and we have to celebrate!! And he bought a bottle of Moet & Chandon, and lemon meringue pie (our favourite desert) to share, to celebrate, and takes me out for Mexican food for lunch.
But the sweetest thing is later on, when he plays me the song. He was like I should have waited and played the song (it was beautiful, it ends in "will you marry me" - duh) to propose. But I think it is very sweet that he got so excited about proposing that he jumped the gun and did it earlier. He had set the camcorder up to tape his song, and his proposal, and had even marked a spot with lint of where I should sit so I was in the frame so he could get my reaction. It was all astoundingly sweet ...
Over the course of the next few days, I learn that
everyone
knew but me!!
My best friend conspired with him, by sending him a picture of the ring I loved (Mara''s ring, just FYI - in case it looks familiar! I thought it was so beautiful. Mara, I hope imitation is the sincerest form of flattery!!

)
All of his friends and family knew about it, and had seen the ring, and apparantly he was even
nervous
... crazy, because of course I was going to say yes. A co-worker of his was like "oh, I''ve seen your ring before ... in fact, I saw pictures of it, sketches of it, and even all the little diamonds before they went into the ring!"
The ring turned out to be a size too big. I have a claddagh ring (an irish ring) that I wear on the fourth finger of my left hand. When I bought my boyfriend a claddagh ring he requested it be the same size as mine, so he could wear it on his pinky. Little did I know that was how he was going to choose the size for my e-ring! Very sneaky and thoughtful, because it was a teeny bit small for that finger but he wore it at that size waiting for the day he would buy my ring.) Lucky the ring was easy to resize, they simply removed one stone and it was the perfect size.
I also had a gift to give to him! A pocket watch by Longines, circa 1900. Luckily I had brought it with me to the US soley to find a beautiful box to put it in (I hadn''t found anything I liked in Australia.) Can''t believe the coincidence ...
Anyway, I have a ton of pics to post, but first I am going to take a brief trip down memory lane, for those looking for their e-ring who are completely indecisive (as I was!) you can see that you are not the only one! Here is all the phases I went through to look for my e-ring ... (and you''ll see why I called myself Indecisive!)