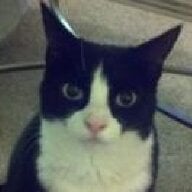 Joined

Aug 8, 2005
Messages

40,225
My name is gypsy, and I''m unable to commit to a setting.

Let''s see if we can help each other out with our commitment issues.

Okay... here''s my problem in a nutshell.

I haven''t seen anything in a store-- already there in person-- in a price range I can afford that I LOVE that is made for my ring, or can be made for my ring without going custom. Actually, even OUT of my price range I don''t think I have found "it."

I''m afraid of going custom unless its with Mark Morrel or Leon Mage... but can''t afford either of those right now. And even if I COULD afford either right now... I wouldn''t be able to choose between Mark''s incredible fluid style and heart prongs or Leon''s pave brilliance and double claw prongs.

I could go custom... but both settings I''ve "loved" I didn''t like for MY stone. The baguette halo I didn''t like with a white center... loved it for color centers. And the ''Contender" from Joe Escrobar would ahve made my very square asscher (1.00 ratio) look rectangular because of the halo to stone ratio once the setting was scaled down for my asscher...(thank you Irina for your photoshop magic that made me able to avoid an EXPENSIVE mistake). So now I''m afraid that anything that I have to scale to size and can''t see in person is going to dissapoint me.

AND this has to be my ''forever'' setting. This is it folks. And well... I want it to be perfect.

SO... that''s my problem.

What''s yours... IN DETAIL ladies...

And lets see if we can help each other out.