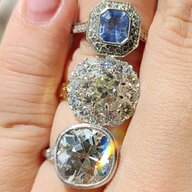 Joined

Nov 21, 2013
Messages

1,122
Thank you
@Dandi
and fellow Aussie! I will definitely keep you posted! It's still soooo very early and hard to tell anyone in real life. I go back to the GP tomorrow for my results. If there was anything bad I would have heard by now. And then the wait 4 more weeks for the 12 week/down syndrome scan. I think after the next scan it would be another milestone!
Thank you
@Begonia
- it just makes me feel a little anxious because I had the Astra Zeneca which they have now stopped for everyone under 50. So my doctor has recommended that I don't get the second dose just to be safe. But any protection is good for both me and the baby.
Thank you
@seaurchin
- you know I have taken your advice and tried to focus on the positives. I actually started prenatal yoga and part of it is about breathing and mindfulness. So when my mind starts to wander I can practice to bring myself back to the present. I am really grateful for all your kind words of support and advice. Because it's so early I haven't been able to tell many people and the support is limited so this forum has been an absolute god send for me.