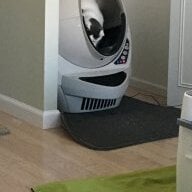 Joined

Jul 27, 2011
Messages

6,583
Hahaha - that looks like my mom's pantry of tea! Now she's curbed herself to half of what you have in your pantry
Every time she goes to Taiwan, she brings back a few containers of oolong and various greens that she claims are from organic farms, hand rolled, blah blah blah. Hundreds of dollars she spends. Her treasured gift to self I guess.
I used to think Teavana was pricey, but then on our honeymoon to China, we stopped at a tea plantation, and got a couple of smallish tins and about 4 tiny tins and it was over $200 USD. A grade dragon well tea. The tea so good they said that their phrase for drinking tea actually translates to "eat tea". The tour group was allowed ONE leaf each to nibble on as a sample - lolol...
I love brewing loose teas. My favorite is a blend of whites, greens, and jasmine from Teavana - whatever is tickling my nose at the moment. Usually have to get a pound I believe - which is about 2 bags, so one for me and hubby, and one for mom and daddy as a just-because gift.
ckrickett|1417971771|3797232 said:

I used to manage and train people for tea store about 10 years ago. I had a huge LUST for tea, and I collected my fair share of types and blends.

currently I have about 85lbs in my tea cabinet, but I DO have my favorites

White-

Silver Needles is my most favorite of the whites, and if I can find it bound into tight little balls that is even better!

Oolong-

I love Monkey Picked Oolong, and Pheonix Mountain dan Cong, if I can find an amazing jasmine oolong then I swoon over that. (Also the oolong teas in chinese restaurants is pretty great too)

Greens-

Gyokuro Imperial

Matcha

Jasmine Pearl Tea

Genmaicha

Blacks-

I LOVE Chinese black teas, especially ones with a rich full body!

I also Love english breakfast

Flavored Blacks

Lapsang Souchong - it's a smoked tea, and tastes like a delicious campfire

Earl Grey

Herbal-

Rooibos teas, especially ones flavored with orange, lemon, or macadamia

Linden Flower Tea

various herbal tisanes are great as well