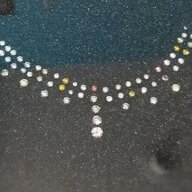 Joined

Jan 4, 2008
Messages

245
kroshka|1400514536|3676022 said:

As others have said, this is going to be an amazing project! Half the fun is collecting and hunting for the stones

Could I trouble you for a rundown on the specs of all the stones you have so far for your necklace - i.e. colors and carat weights? How long do you prefer/plan for your necklace to be?

Kroshka

susiegrneyes|1400422523|3675450 said:

Here's the latest incarnation. I got 6 new stones from Leibish last week.
0.40 Light Brown-Pink Pear
0.11 Light Pink Round
0.05 Fancy Greenish Blue Round
0.12 Fancy Grey Round
0.14 Fancy Yellowish Orange Round
0.10 Fancy Deep Purplish Pink Oval
0.13 Fancy intense Yellow Round
0.11 Fancy Intense Yellow Round
0.09 Fancy Intense Orange Yellow Baguette
0.07 Fancy Intense Orange Yellow Baguette
0.35 Fancy Yellow Oval
0.17 Fancy Yellowish Orange Shield
0.13 Fancy Deep Yellow Round
0.13 Light Grey Round
0.13 Light Grey Round
0.12 Fancy Deep Yellow Round
0.05 Fancy Light Greenish Blue Round
0.10 Fancy Light Pink Round
0.10 Fancy Light Pink Round
0.11 Light Green Round
0.11 Fancy Brownish Orangy Pink Round
0.11 Vivid Yellow Round
0.12 Vivid Orange Yellow Round
0.12 Fancy Intense Green Yellow Round
0.11 Fancy Deep Brownish pink Round
3.17 ct total weight