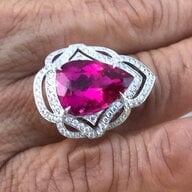 Joined

Dec 26, 2017
Messages

1,883
You were right

I definitely thought it was going to come back as something fake. The other jewelry we found was such a mixed bag, I thought there wasn't any way this was real.

Is the origin very important? It cost extra I think and I also thought was a minor detail (especially for something I assumed was essentially worthless). Now that I know it's worth my time, should I have the stone unset and get a more detailed report?

''you're right, the cut is very unusual and not even close to symmetric. Do these things tend to do better as completed jewelry or as loose stones?
I think having the stone unset and sending it back to GIA for a retest would be a good idea. Having the actual carat weight and the origin would certainly make any appraisal much more accurate.