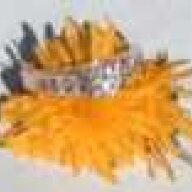 Joined

Feb 4, 2009
Messages

39
My fiance and I just bought my engagement ring, It is absolutely gorgeous
The man we bought it from is a retired state trooper who was selling it for his friend in MD who recently got laid off and needed money quick so he decided to sell his deseased wife''s ring. The man took his mother''s diamond solitaire and had a custom mounting made and selected a channel set with 4 round diamonds on each side. He gave us the appraisal his friend had done from 1997. The appraisal was very simple and did not contain much information. The original appraisal in 97'' said the retail replacement value was 2500.00. All it had was color grade K, Clarity SI1, Cut Round, and Carat .71. Well, I fell in love with the ring as soon as I saw it and HAD to have it!!! It was absolutely stunning and very unique. The mounting is in 18k yellow gold with a VERY high bar setting. After we purchased to ring from the middle man, we took it to the most reputable independent appraiser in our area to get appraised and resized from 6.5 to 5.75. I called several jewelry stores and they all recommended him and said most shops send the rings to him to appraise anyway. I called this guy and he charges by the hour, so we went in and left the ring.. before we left he said the ring would take 45 min-1 hr because of the setting. He calls us the next day to pick up the ring, when I opened up the appraisal I almost fainted. He appraised to ring at 4850.00 and we only paid $ 650.00. It had so much more detail in this appraisal than the one done in "97. The Appraisal read:
One ladies, 18Kt yellow gold, Euro shank, engagement ring weighing approximately about 5.36 dwt,with one round white stone in the center set in a white gold, bar setting and a channel set row of four round, white stones on each side. It contains:
One rond, brilliant cut diamond measuring approximately 5.62mm in diameter by 3.6mm in depth and weighs about .72 carats. It color grade is in the J-L range and clarity grade SI1...........$3110.00
Eight round, brilliant cut diamonds measuring from approximately 2.2mm to 2.5mm each in diameter and weight a total iof about .40 carats. Their color grades are in the G-I range and average clarity grade os SI1...........$810.00
Mounting............$930.00
Estimated Replacement Cost: 4850.00
I did some research online and you can see the shape of my diamond perfectly because of the setting and its ideally cut... also, for being such a low color grade and clarity, it shines and sparkles better than my friend''s ring which is graded at a F color and VS1 clarity. It truly is a beautiful ring, the colors that bounce off it is what caught my attention. So my question is, could this appraisal truly be what the ring is worth? Or are most appraisals off quite a bit? Thanks for ANY info or help I may receive!!!!