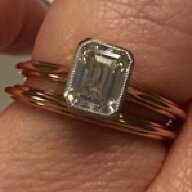 Joined

Jan 25, 2008
Messages

452
Yay! My reset arrived today. I had this diamond set in a pendant, which was very pretty, but.... I felt like it got lost in my clothes. I just was never quite happy with it.
Last month, dimend SCAASI had a special where they would reset your own diamond -- even if you didn''t purchase the stone from them. They did an excellent job with my wedding set, I decided to let them have a go at this one. They did not disappoint. I am ecstatic with my new RHR.

They also put together a wax band for me, so that I could see if I wanted to purchase a matching band. I''m still undecided on this one, as it is a RHR; however, I still think it looks good. The wax band is 4 mm wide, but I''m thinking it might be too wide. Maybe knock it down to 3 mm??? What do y''all think?
Anyway, the center stone is .92 ct/F/VS1 Emerald Cut. It''s not a perfectly cut stone, but I love it anyway. It does put off a fantabulous sparkle in the sun!
Enjoy the pictures!
~LibraryChickie
Here''s the first picture in the box.