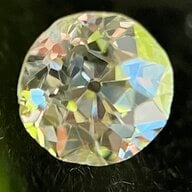 Joined

Dec 16, 2007
Messages

24,364
Hiya everyone! I haven't been around in a while, but I am embarking on a new project so I thought I'd come see if any of my old friends are still around and want to play.
I spent the last couple days lurking in SMTB and checking out some old threads. It's fun to see what's changed and what's stayed the same. I see some new faces, but lots of familiar ones too! Old cuts are as popular as ever, maybe even more so than the last time I was here. I see that some of you have been very very bad girls and acquired very very huge rocks!

Is four carats the new two carats? I sure hope so! And I see so much yellow gold! And three-stones galore! I came back at the perfect time
The last few years have been a whirlwind with no time for diamonds. I spent the better part of the last few years renovating a 100 year old house. I guess my love of old things knows no bounds! I also got tenure at my job. And I had a health crisis that I am thankfully recovering from now.
And
I still love my George!
But she needs a new home. My ring size changed quite dramatically as a result of my illness, and I don't want to compromise my glorious antique setting by stretching her beyond her limits. For the past two years, my dream ring has been languishing in a drawer! C'est dommage!

Something must be done.
So I'm going to reset my precious into... drum roll please... a three stone! I'm finally gonna do it!

For realsies! And I'm gonna document the process in this thread. Who wants to come along for the ride?