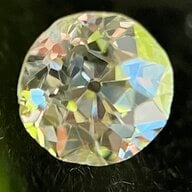 Joined

Dec 16, 2007
Messages

24,364
Yes I always said (thought) I wanted a three stone, yes I sold a diamond a year ago in part because it was too big, yes I am a changable creature... we all know the history!

But I had been saving to set my three stone and kept finding excuses not to do it. I couldn't decide on a setting, I couldn't decide whether I liked the big side stones or smaller side stones. Somehow I had a mental block about that project. And when I saw Demelza's huge OEC -- the first time I had the pleasure of seeing such a large and amazing diamond in person -- GAME OVER!! I wanted one too
InnaR said in my three stone thread that she thought I was a solitaire girl at heart. And I realized she is right. It just needs to be a really big solitaire
Social norms be darned.
But I had also been wondering if maybe old cuts were not for me. I love so much about old cuts -- the chunkiness, the history, the uniqueness. But I cannot stand lazy central facets, leakage, hazy mush. I am OCD about cut!! My 7mm OEC is about as good as it gets in a traditional OEC and even that stone niggled at me in terms of optics. So I was considering getting an RB again!
And then yesterday I stumbled on a listing on ebay that made me stop in my tracks and gasp out loud! This is it! The holy grail, the one in a million cut! Just what I have been looking for! I made an offer, back and forth we went, seller shipped overnight, and I made a day long trip to pick it up today.
It is love at first sight!!



This diamond is perfect, all my dreams come true: Huge, white, perfect chunky optics, and a gorgeous setting. It is that rarest of rare cuts: a very symmetrical later European cut, what some call transitional. Like a chunkier, bolder, modern RB. The cutter who crafted this stone was a master. And it is *perfect* for me. Looks so much like Demelza's stone! And others I have admired on PS: jjc's, happy canary's, kennedy's.
So, may I introduce my 8.1mm later period European cut diamond, likely from the 1920s. Estimated G color, SI1 clarity with no under table inclusions, 1.9ct. In a supposedly authentic platinum octagonal-bezel prong-set mount.
I have named her "George" because I will love her, and kiss her, and squeeze her and never let her go.