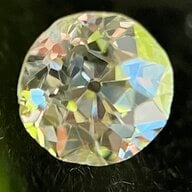 Joined

Dec 16, 2007
Messages

24,360
Hey, Dreamer!!! So happy I "found" you on that other thread! Our youngest daughter got engaged New Years weekend, so I have been immersed in wedding planning the last couple of months and just glancing in here occasionally!

Caysie has made several things for me and I think she is incredibly gifted in design. I can't think of anyone who could get the aesthetic you are describing better than her. The complaint I have heard most is that the projects sometime take longer than expected, and that usually happens when she has to source custom cut stones for the setting as she has no control over that. Other times her bench is swamped. She is wonderful, though, and I never care how long my pieces take because they are so awesome when they come! I got one for Christmas/anniversary and haven't posted it yet because I decided to send it back to get a different kind of clasp on my chain. Plus I just haven't had time to take pictures.

I love your idea to make your ring a three stone! And yes, since smaller stones are going to be harder to see the facet patterns, I feel sure you can access tranny's that would work with your George! It may take time, but I feel like that is possible. If not, Caysie could get Yoram to custom cut a pair for you, but that likely would be a bit more expensive. I know you prefer old cuts anyway, so I am sure eventually a pair can be matched! I have long wanted a three stone ring, but I already feel self-conscious about my 2.3 ct AVR and think side stones would just be too much bling for my extremely casual lifestyle. I hope to make one eventually even if it's with a sapphire center, or something. I'll be looking forward to following your thread!
@diamondseeker2006
I'm glad you found my thread! And a wedding in the family! Where has the time gone? It must be such an exciting time.
And thank you for your endorsement of Caysie. It carries a lot of weight with me, for sure! I have read all the threads and seen her work, and I think the fit will be good. I have not contacted her yet, I sort of want to have my diamonds first, but I will get in touch soon. I will drop your name if that's ok!
And I must say, you have collected just a... STUNNING collection of jewels in the last few years
Honestly, just a sublime collection. I hope you are wearing them all and loving them.
And I hear you about feeling self conscious about sporting a three stone. If you recall, back in 2012 I did find an old cut three stone with a 7mm center and 5.8mm sides, and I felt very self-conscious wearing it. I am thinking that now as an older woman with much bigger fingers, and with smaller side stones, I will be okay with it
And if not, I will just wear it anyway
My lifestyle is also somewhat casual, but I do tend to wear dresses and big bold patterns, and as mentioned above, I am hoping to up my style game with bigger, bolder choices going forward, so I think I can pull it off. But most importantly, I am a big woman and big women need big jewels!