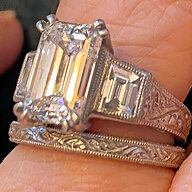 Joined

Apr 6, 2005
Messages

10,074
CONgrats!!! it is stunning!!!!!! I am a milgrain fan!!!! So, i might be biased.

I am gunna try to be objective and look at the set that is presented.
When i look at the set, i feel that it needs to have the milgrain on the traps..
Why? the wedding band has milgrain. your 3 stone has milgrain everywhere except for the traps. for me, it doesnt flow as well. However, i can see the merit in having the 3 stone with the claw and the plain bezeled traps.

if it were my decision to make, i would choose to have it milgrained.


OMG, though- stunning set!!! congrats!!!
Thank you so much gregchang35 for your objective view. I am biased because I too love everything milgrained. Honestly I am teetering towards milgraining but I will live with it for a while before I do anything.