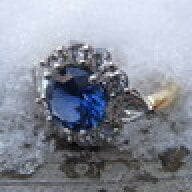 Joined

Nov 4, 2007
Messages

3,336
HEY Canuck GUESS WHAT???
I found a mangle iron!


I get it on Saturday from a woman in Detroit who restores them.
Here is the original "do you iron" thread. It is locked but I asked admin to open it up.
https://www.pricescope.com/community/threads/do-you-iron.95088/
The discussion re: mangle irons (ie: those things used to iron sheets/duvet covers etc. starts on page #2).
ANYHOW! I kept searching and found a dealer on ebay. She has an almost-new unit for me. I am ecstatic. ($350 US$ for everything). She is putting on a new roller pad and cover so it'll be absolutely FAB.
The flatware is piling up as we speak!
I can hardly wait to get all of my new beautiful bedding all pressed! (that high thread-count egyptian cotton that comes out of the dryer looking like kleenex!)
The best part,
I found these 2 sales videos from the Ironrite Company from about 1950
. Would have been on reel to reel tape back then…whatever that is.
http://www.archive.org/details/MakingaN1946
http://www.archive.org/details/MakingaN1946_2
(just click on the big green arrow and it will play – they're about 15 minutes each)
Talk about dated! SO SO funny, how the woman has to spend all day ironing so dear hubby can get out to the golf course and look fab....Oh, and there's a part where she's tucking him into bed (remember the days when they could only show twin beds on tv??) The other thing I liked was to see all of the old kitchen/laundry items in the film: so much of these were in my Mom's kitchen growing up. I'm sure you'll see something familiar.
I have had quite a laugh watching them…and of course, I am thrilled to think I will soon own my own "Ironrite" and learn to become the dutiful wife I could have been back in 1952….nyuk nyuk nyuk
Pic below of my OWN soon to be mangle iron!! Sweet DH says that this indicates some deep psychological deficit in my psyche -
YEAH BUT WAIT TILL HE SEES WHAT THIS THING CAN DO!!

LS